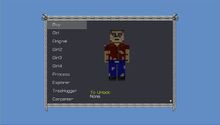 The Boy skin is the default avatar along with some others that require nothing in order to play as, Just starting the game will unlock this character for the player
Description
Edit
The avatar has a red shirt and a blue pair of trousers, it has a female alternative with the same clothing.
Before the multiplayer update that included new skins every player would spawn as a very basic looking male character, who also had a shirt (which would have different colours for guests on splitscreen).
Default Unlockable
Dialogue
Edit
The default text for the boy Avatar Skin when it is placed by a NPC block block is
"Hello. Good bye. I must be getting home."
Ad blocker interference detected!
Wikia is a free-to-use site that makes money from advertising. We have a modified experience for viewers using ad blockers

Wikia is not accessible if you've made further modifications. Remove the custom ad blocker rule(s) and the page will load as expected.