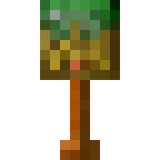 The Greenstone Gold Shovel is a high tier shovel that is made out of Greenstone and Gold Bars.
Description
Edit
"Why would anybody dig dirt with a shovel as beautiful as this? Be sure to polish it after you're done digging."
How to Obtain
Edit
Crafted with a Gold Bar in the second slot, two Greenstone in both the 4th and 6th slots, and Sticks in the 5th and 8th slots in a Workbench.
Stats and Bonuses
Edit
General Stats

Class: GreenstoneGold
Power: 600/4200
Durability: 1500/1500

Attack Stats

Damage: 4.5
Reach: 1.80
Speed: 0.32
Delay: 0.00

Skill Stats

Use Requirements: Digging 30
Use XP gained: 2.5
Craft Requirements: Smithing 32
Craft XP gained: 10.96
Ad blocker interference detected!
Wikia is a free-to-use site that makes money from advertising. We have a modified experience for viewers using ad blockers

Wikia is not accessible if you've made further modifications. Remove the custom ad blocker rule(s) and the page will load as expected.