For the mob, see: Indian (Mob)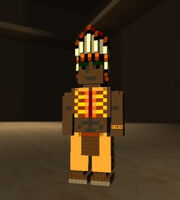 The Indian Avatar Skin was added to Total Miner: Forge in the 1.5 update, it is unlockable only in the Dig Deep game mode. To unlock this avatar skin, the player must craft 200 arrows from the raw materials required to do so. Then, using those crafted arrows and a wood bow, kill 50 enemies.
The Indian Avatar Skin resembles the appearance of a Native American due to his native clothing.
The Indian Mob was also added as a hostile mob in the 1.8 update and seem to only spawn at night as they attack the player with a bow with impressive accuracy along with a very short firing delay.
The default text for the Indian Avatar Skin when it is placed by a NPC block block is "Apparently I Am Not An Indian. Indians Come From India. I Am A Native American."
Although the avatar skin resembles a Native American, the name uses the old saying of the Native American, Indian. Early explores once believed they originated or lived in India.
You can earn the badge, "Team Leader," as it displays the Indian Avatar Skin on the badge (make 50 edits on articles).
The Indian was actually a mob when survival mode was added, but was replaced with the Dryad/Djinn as it was only a placeholder untill a new model was made.
Ad blocker interference detected!
Wikia is a free-to-use site that makes money from advertising. We have a modified experience for viewers using ad blockers

Wikia is not accessible if you've made further modifications. Remove the custom ad blocker rule(s) and the page will load as expected.