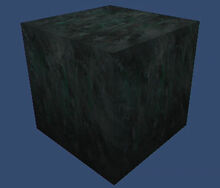 Komatiite is a strong dark brown mineral. It is similar to granite.
A block of Komatiite can withstand a few hits from explosions. Not even Total Miner's exclusive Grenade Launcher can hardly destroy it in one shot. Because of Komatiite being a very tough block, it is useful for making sturdy fortifactions or walls.
Description
Edit
Required Tool(s)
Edit
How To Obtain
Edit
Skill Statistics
Edit
Ad blocker interference detected!
Wikia is a free-to-use site that makes money from advertising. We have a modified experience for viewers using ad blockers

Wikia is not accessible if you've made further modifications. Remove the custom ad blocker rule(s) and the page will load as expected.