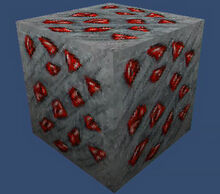 A Ruby is a rare block that can be found at around 1400-2000 depth. Ruby Blocks can be bought at a Block Shop for approximately 7,800 gold pieces. It can be sold for 6,500 gold pieces at the block shop.
Description
Edit
It's a Granite colored block with tiny unrefined rubies sticking out on each side, similar in design to a diamond block.
The blocks description read: "This rock contains ruby. Ruby gemstones can be extracted from this rock by smelting it in a furnace."
Smelting a Ruby will create a Ruby Gemstone. The gemstone is needed to make a Ruby-Tipped Diamond Pickaxe, Ruby Arrows, Spider Ring, Necklace Of Hypocrisy, and the Predator Amulet. Most of which are jewelery. 
Required Tool(s)
Edit
The pickaxe required to mine this block is an Iron Pickaxe, or greater.
Skill Statistics
Edit
Building Level Requirement: Level 32
Experience Per Use: 2.6 Exp.
Mining Level Requirement: Level 32
Experience Per Use: 2.6 Exp.
Ad blocker interference detected!
Wikia is a free-to-use site that makes money from advertising. We have a modified experience for viewers using ad blockers

Wikia is not accessible if you've made further modifications. Remove the custom ad blocker rule(s) and the page will load as expected.