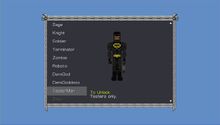 The
TesterMan Avatar Skin
is an
unlockable
that can be only be used by the testers of
Total Miner
. There are several people who have the avatars including past testers.
Resembles a superhero (In this case batman)
Like the other exclusive skins the TesterMan avatar has special powers that most players can't use, Similar to robotic it has the ability to fly in all maps/game-modes.
Which in retail is all it can do, but in the testing software (XNA) it has similar powers to zeus.
in 2.11 there was a bug that carried over some powers from the XNA version of the game which allowed testers to change their own permissions on anyones world. (Only their own and could not effect other player perms)
This was a bug and will be corrected in the 2.2 update
Ad blocker interference detected!
Wikia is a free-to-use site that makes money from advertising. We have a modified experience for viewers using ad blockers

Wikia is not accessible if you've made further modifications. Remove the custom ad blocker rule(s) and the page will load as expected.